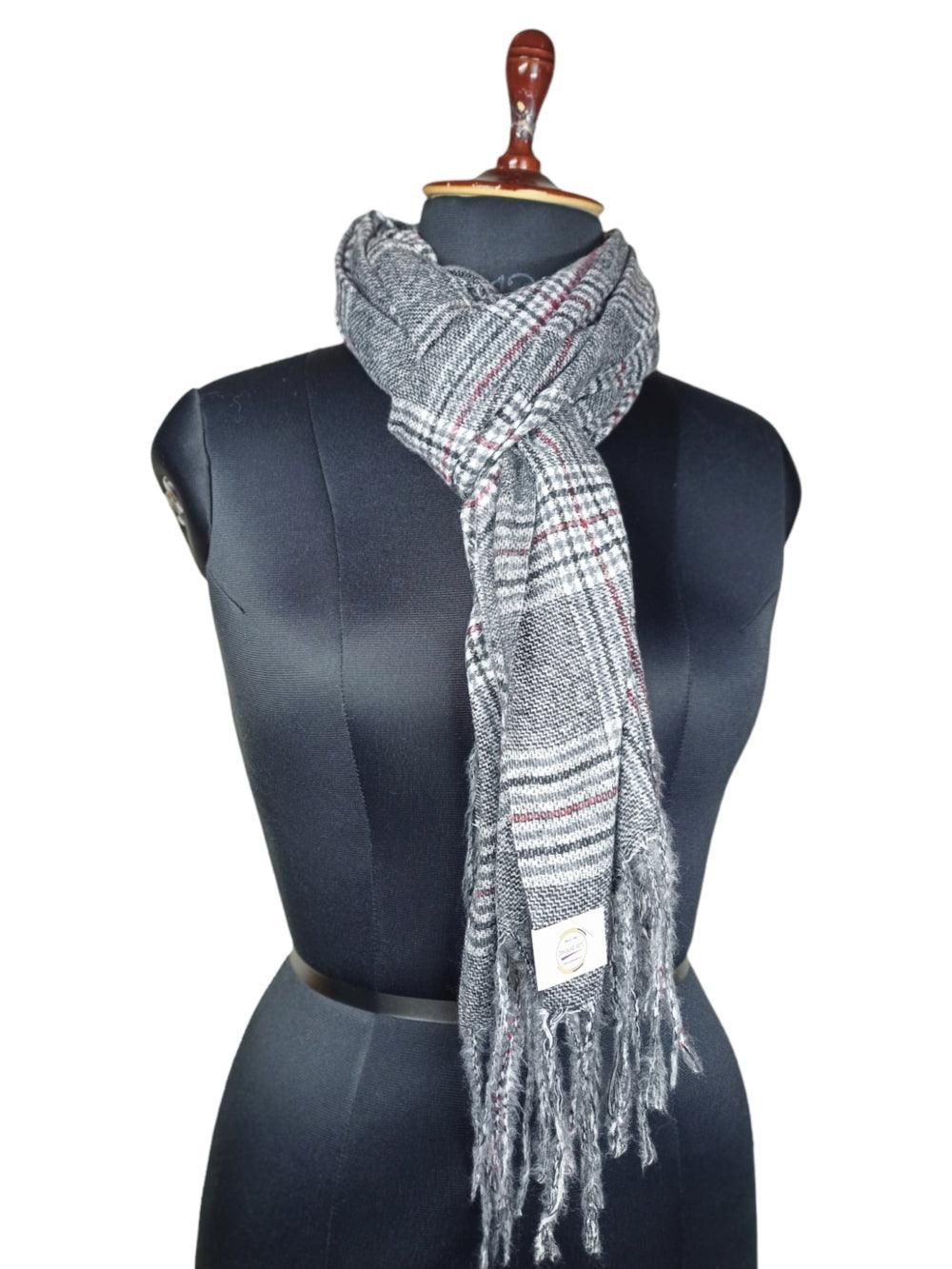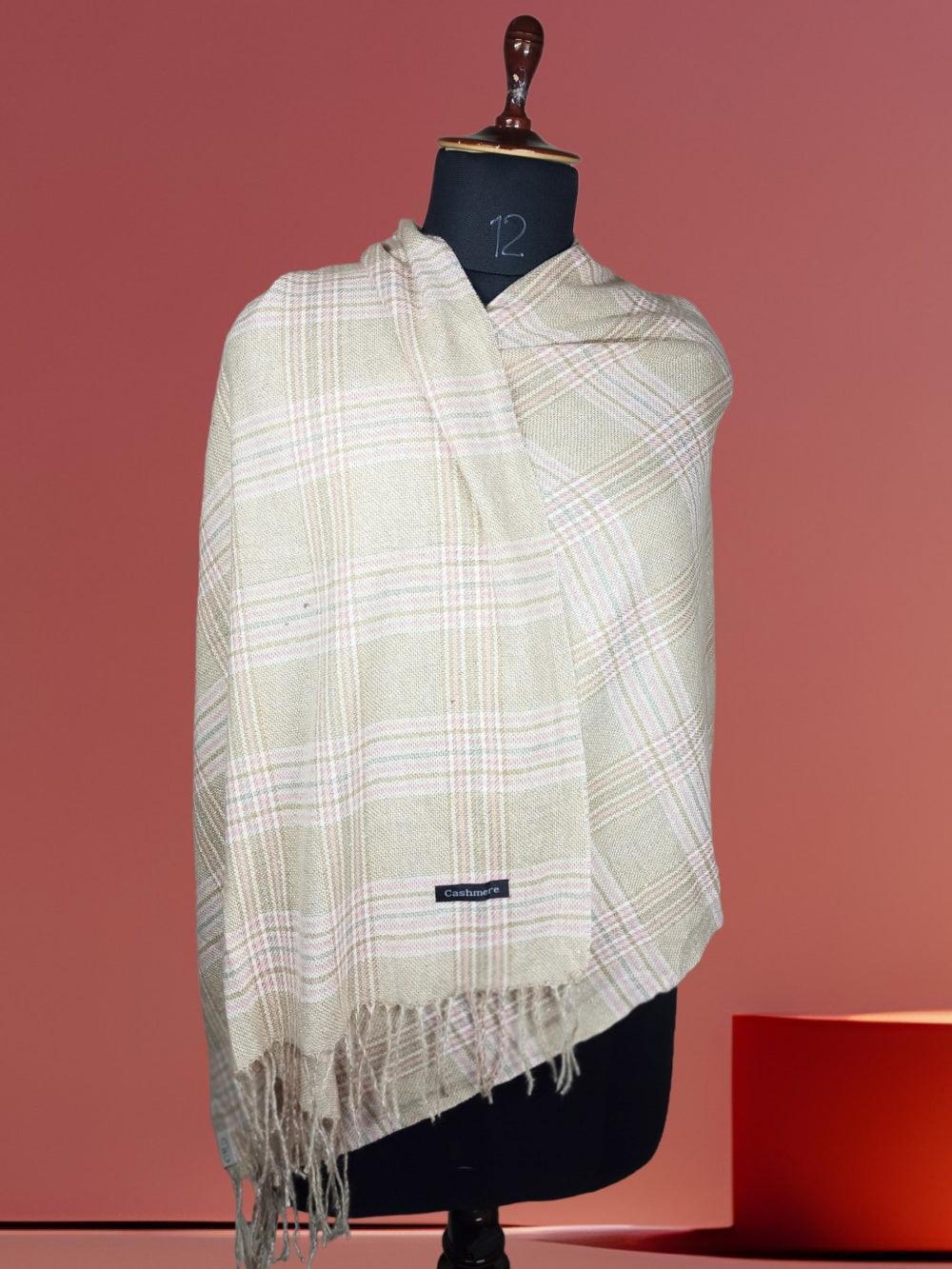 Cashmere Woolen Stole | Check Design | Reversible Stole
SKU: ZASK-STL1
Free Domestic Shipping , Product Will be shipped Next working day.
Now you can pay Cash On Delivery above order value of Rs.500.00
---
Product Description

Zanskar Arts presents a new collection Kashmir Wool Stole which are designed by professionally skilled artisans in Kashmir. This  handwoven pure woollen stoles, that is meticulously woven into intricate multicoloured traditional patterns that create a striking offset . The design inspiration comes from natural ambience. Check design has been a part of kashmir valley since the era of mughals. Stylish wollen stoles, shawls which can be wear in any occasions(party ,work,festival etc).Stay warm and look stylish this winter in our new collection of woolen poncho for you. All the designs are specially crafted. PONCHO IS A SOFT 'FINE KNIT WITH A NECK LACE AND OPEN SIDES. Made from the fine quality of acrylic wool,it gives you a cozy and soft feel all day long .IT is a free size garment.


Product Details:

Care Instructions: Hand Wash Only

FABRIC 100% Acro Wool ; wash care; Machine wash

STYLE: stole, PATTERN : Woven ,Solid,

Occasion : Casual

Age Range Description: Adult

| | |
| --- | --- |
| Mode Of Made |    Handwoven  |
| Material |    Fine Wool |
| Colour |    Multi Color |
| Who can use |    Female |
| Washing |    Hand wash only |
| When To use |    Winter & summer  |
| Shipping |    Free Shipping  |
| Product Size |    L72", B27.5 inches   |
| Product Weight |    222 gm |
| Product Quantity |    1 Stole |
---
This product has no reviews yet.
Featured collection
View all
Save Rs. 170.00
Save Rs. 300.00
Save Rs. 170.00
Save Rs. 170.00
Save Rs. 170.00
Save Rs. 300.00
Save Rs. 750.00
Save Rs. 100.00
Save Rs. 300.00
Save Rs. 300.00
Save Rs. 300.00
Save Rs. 300.00
Save Rs. 165.00
Save Rs. 300.00
Save Rs. 375.00
Save Rs. 165.00
Save Rs. 300.00
Save Rs. 165.00
Save Rs. 165.00
Save Rs. 165.00
Save Rs. 180.00
Save Rs. 300.00
Save Rs. 180.00
Save Rs. 180.00
Save Rs. 180.00
Save Rs. 150.00
Save Rs. 150.00
Save Rs. 150.00
Save Rs. 300.00
Save Rs. 400.00
Save Rs. 150.00
Save Rs. 150.00
Save Rs. 135.00
Save Rs. 135.00
Save Rs. 135.00
Save Rs. 180.00
Save Rs. 180.00
Sold out
Save Rs. 45.00
Save Rs. 45.00
Save Rs. 45.00
Save Rs. 50.00
Save Rs. 50.00
Save Rs. 50.00
Save Rs. 165.00
Save Rs. 225.00
Save Rs. 270.00
Save Rs. 270.00
Save Rs. 270.00
Save Rs. 270.00
Best Selling Products
View all
Save Rs. 150.00
Save Rs. 275.00
Save Rs. 300.00
Save Rs. 330.00
Save Rs. 275.00
Save Rs. 300.00
Save Rs. 350.00
Save Rs. 300.00