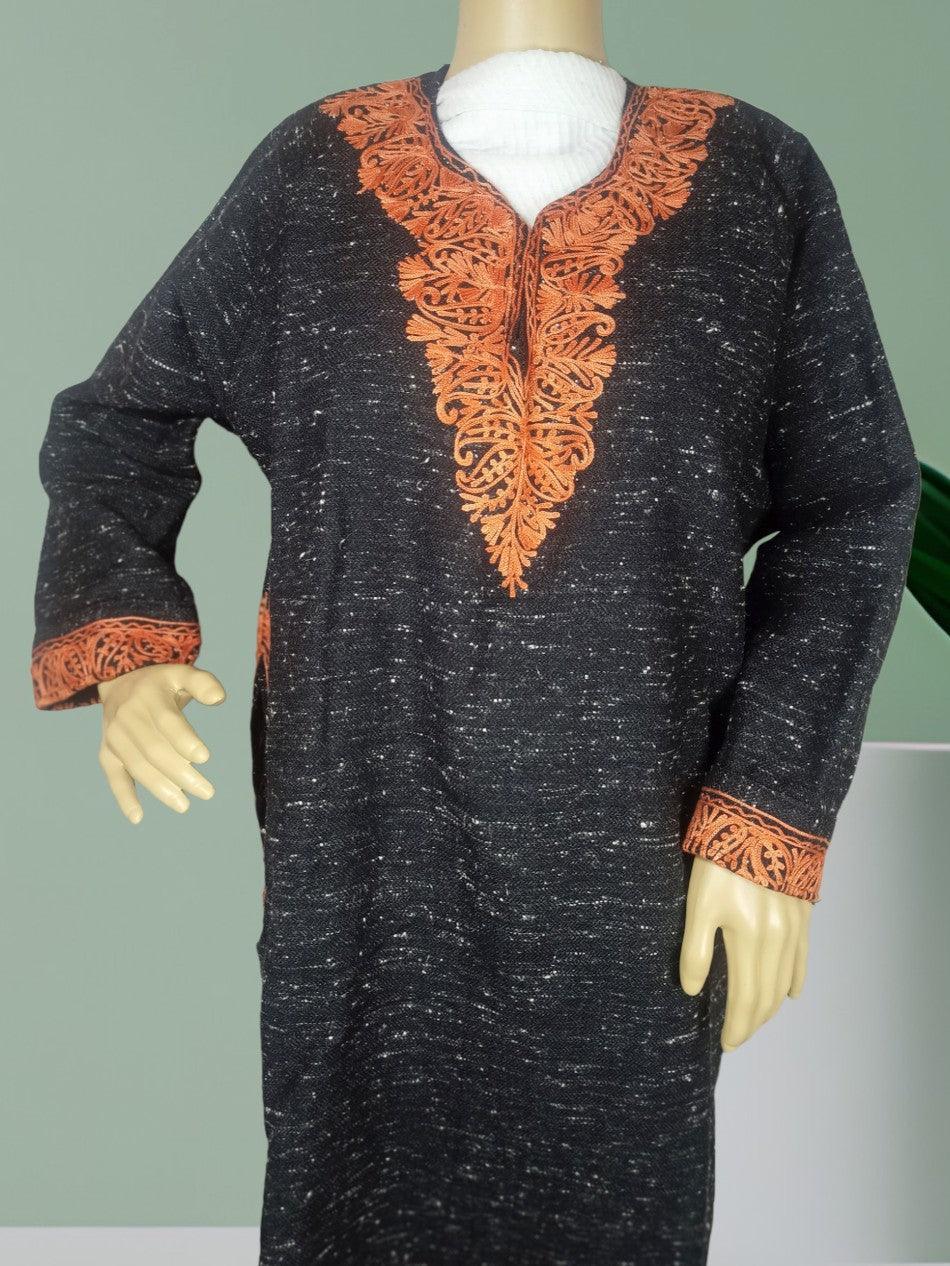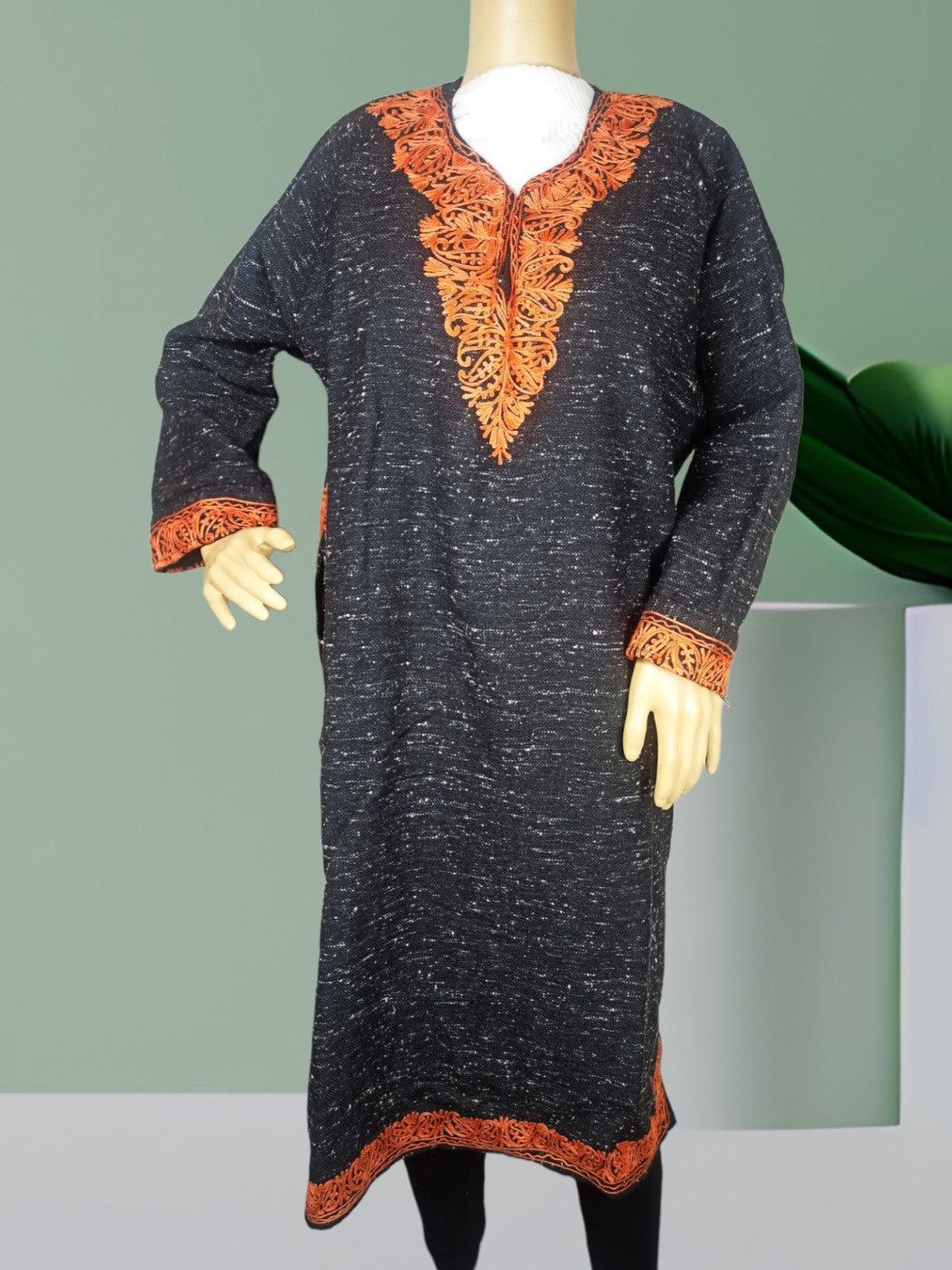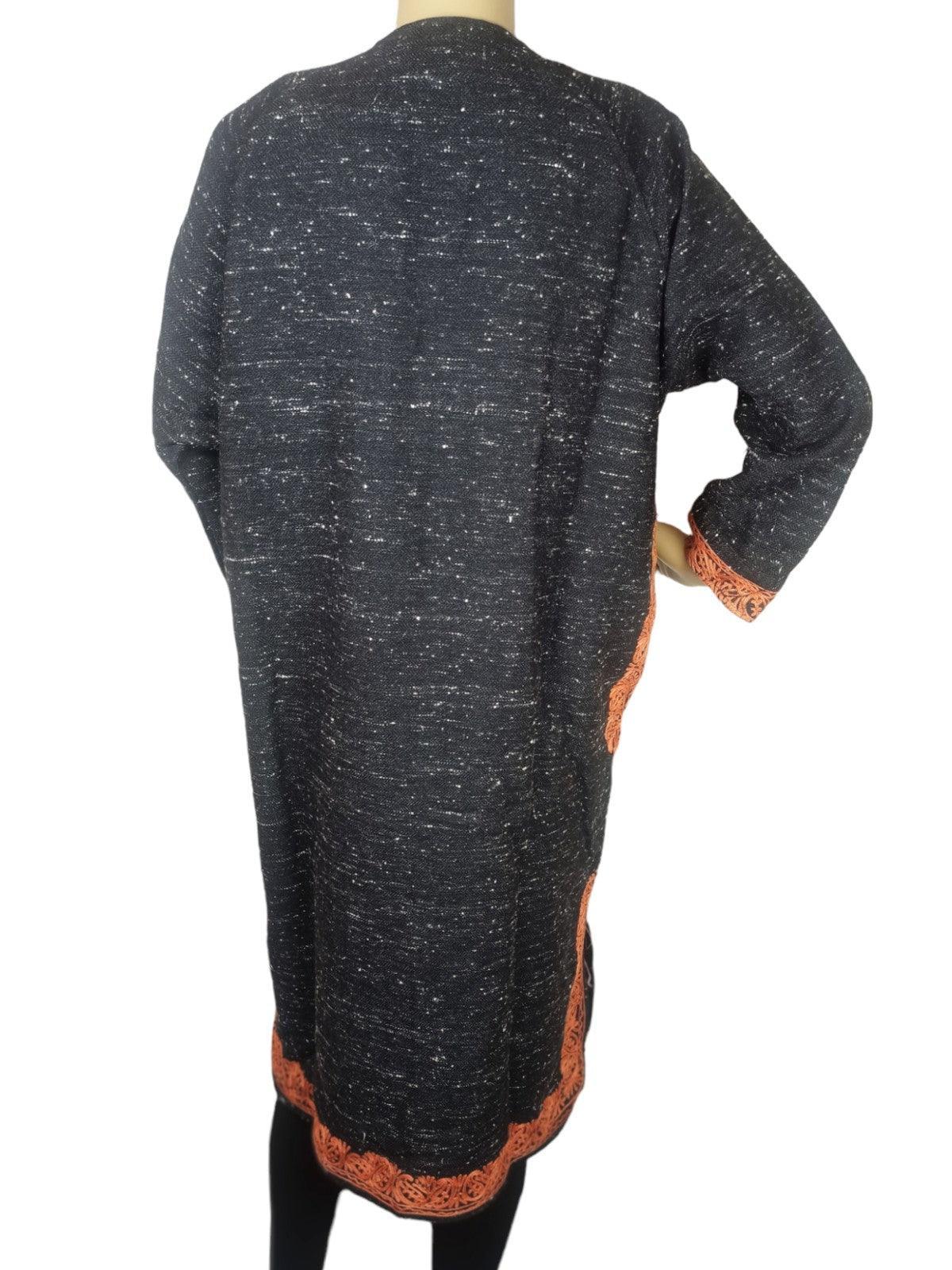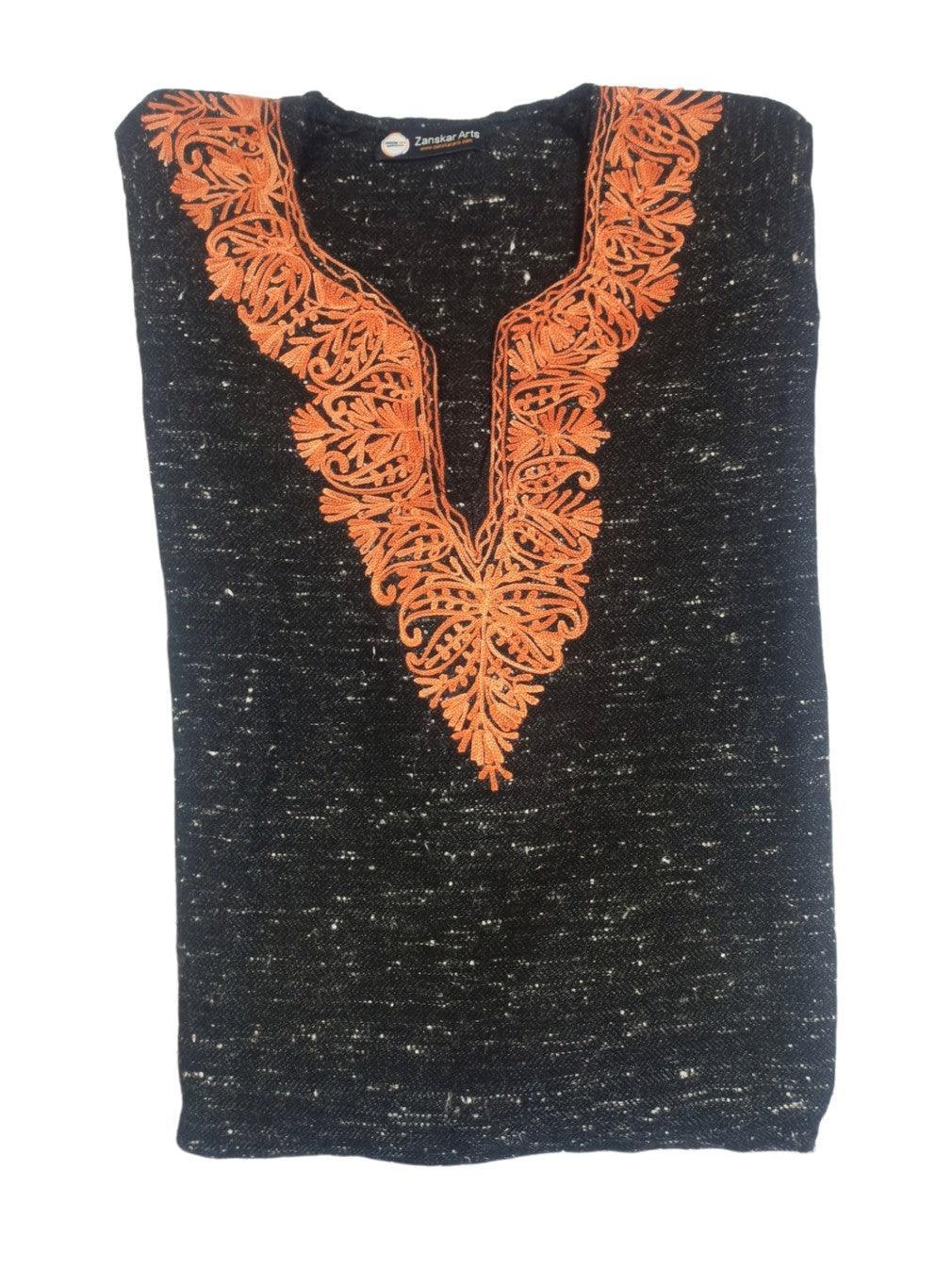 Women Yak Wool Faran | XL Natural Black | V Neck
SKU: ZASK-WFARAN-23
Free Domestic Shipping , Product Will be shipped Next working day.
Now you can pay Cash On Delivery above order value of Rs.500.00
---
PRODUCT DECRIPTION

A gorgeous Woolen Women Pherans in the beauty of Aari Embroidery of Kashmir. In enchanting floral vine pattern, the aari kari on this Pheran is a stunning artwork reflecting the timeless beauty of Kashmir.

Kashmiri traditional Pheran, Loose upper garment loosely gathered at the sleeves which tend to be wide.

Fabric: Yak Wool | Full sleeve | Style: Loose fit | Length : Below Knee Length | Size : XL; Length : 41 Inches; Chest : 48 Inches; Shoulder : 23 Inches; Arm : 14 Inches. 

Neck : V Shape Neck | Work : Aari Work | Sleeve : full | Length : Below Knee Long. 

These woolen Farans are very light in weight and keeps your body warm in cold weather.

Occasion : Casual, Formal, Daily wear, Festive and Party.

Since the product is handcrafted item, there maybe slight variations in design accuracy, uniformity, color, and size.

Product details

\

Mode Of Made

    

Hand Made

Material

    Yak Wool

Colour

    Natural Black & Brown Embroidery

Who can use

    

Anyone 

Washing

    Brasso

When To use

    

All season

 

Shipping

    Free Shipping 

Product Size

    L:41",C:48",S:23",A:14" 

inches

Product Weight

    0.706 gm

Product Quantity

    One 
---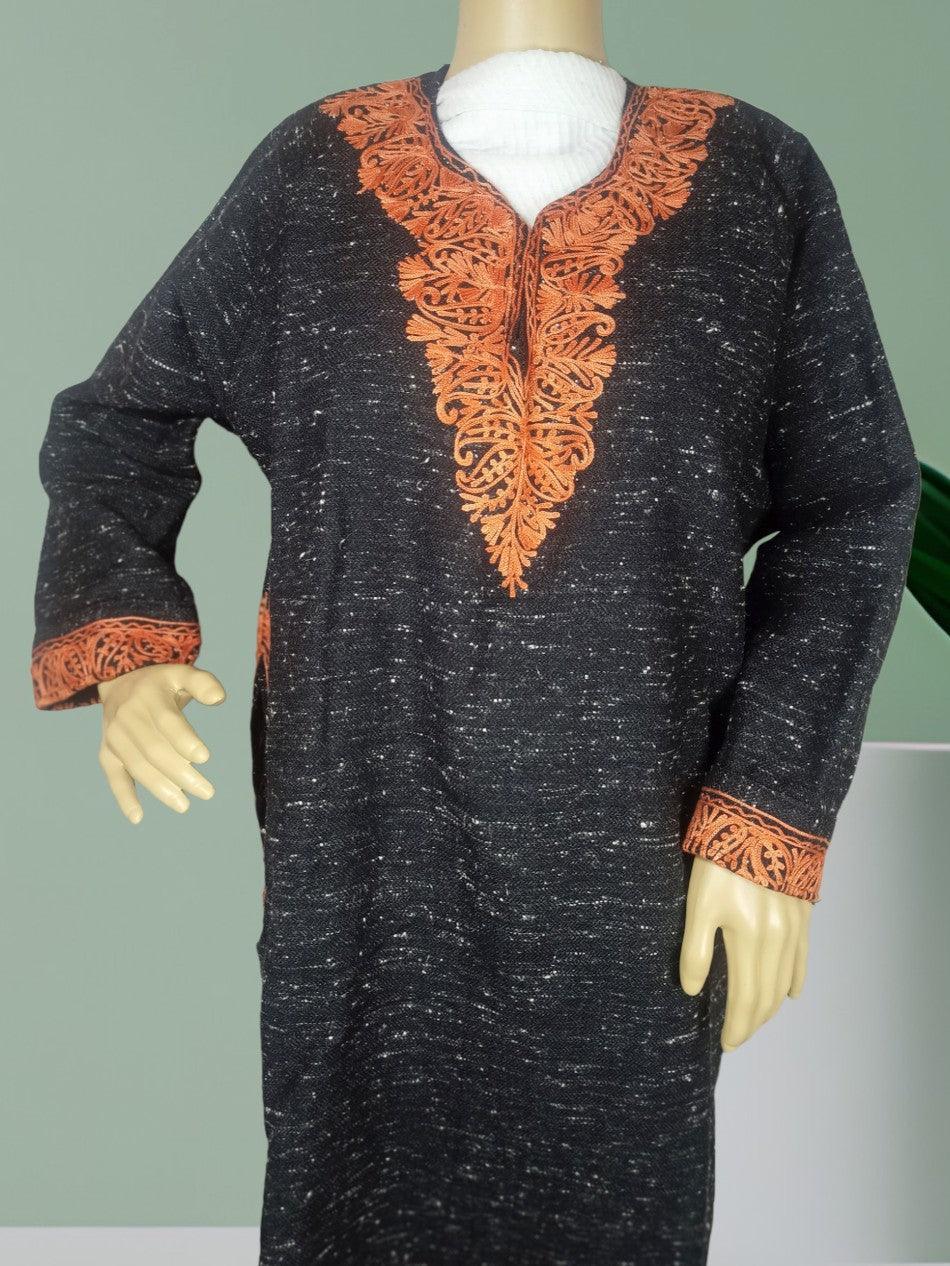 This product has no reviews yet.
Featured collection
View all
Save Rs. 170.00
Save Rs. 300.00
Save Rs. 170.00
Save Rs. 170.00
Save Rs. 170.00
Save Rs. 300.00
Save Rs. 750.00
Save Rs. 100.00
Save Rs. 300.00
Save Rs. 300.00
Save Rs. 300.00
Save Rs. 300.00
Save Rs. 165.00
Save Rs. 300.00
Save Rs. 375.00
Save Rs. 300.00
Save Rs. 300.00
Save Rs. 300.00
Save Rs. 300.00
Save Rs. 300.00
Save Rs. 300.00
Save Rs. 300.00
Save Rs. 300.00
Save Rs. 300.00
Save Rs. 300.00
Save Rs. 165.00
Save Rs. 300.00
Save Rs. 165.00
Save Rs. 165.00
Save Rs. 165.00
Save Rs. 180.00
Save Rs. 300.00
Save Rs. 180.00
Save Rs. 180.00
Save Rs. 180.00
Save Rs. 150.00
Save Rs. 150.00
Save Rs. 150.00
Save Rs. 300.00
Save Rs. 400.00
Save Rs. 150.00
Save Rs. 150.00
Save Rs. 135.00
Save Rs. 135.00
Save Rs. 135.00
Save Rs. 180.00
Save Rs. 180.00
Sold out
Save Rs. 45.00
Save Rs. 45.00
Best Selling Products
View all
Save Rs. 150.00
Save Rs. 275.00
Save Rs. 300.00
Save Rs. 330.00
Save Rs. 275.00
Save Rs. 300.00
Save Rs. 350.00
Save Rs. 300.00